With the FIFA Women's World Cup underway, the world is watching some extraordinary talent on the soccer field.
It's also watching some startling statistics regarding what these professional athletes are getting paid.
Soccer players at the 2023 Women's World Cup will on average earn just 25 cents for every dollar earned by men at their World Cup last year, a new CNN analysis found.
Still, that is an improvement: last time, in 2019, it was less than eight cents per dollar, according to data provided by world governing body FIFA and global players' union FIFPRO.
The report also found that, across the board, top female players get paid the same or less in a year than what male soccer players of the same level receive per month.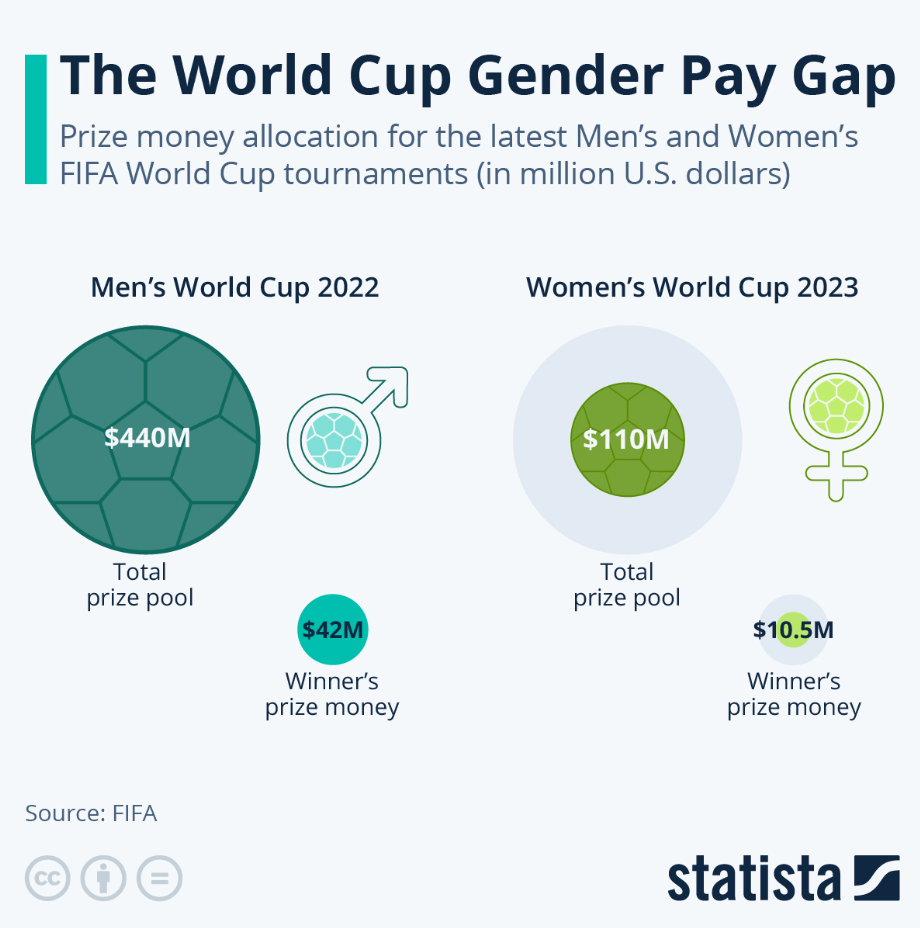 5 Facts About the Gender Wage Gap
While the numbers above are astonishing, it's nothing new. Here are some facts according the US Department of Labor:
Overall, women are not paid as much as men, even when working full time and year-round. On average, women working full time, year-round are paid 83.7% of what men are paid. This inequity is even greater for Black and Hispanic women.
Women's labor is undervalued. Most of the disparity in women and men's pay cannot be explained by measurable differences between them. Out of the causes of the wage gap that we can measure, the main contributor is that women are more likely than men to work in low-paying jobs that offer fewer benefits.
Education is not enough to eliminate the gender wage gap. On average, women have more years of education and are more likely than men to have completed Associate's, Bachelor's or Master's degrees. Yet there is a significant gender wage gap at every level of education. Overall, women must complete one additional degree in order to be paid the same wages as a man with less education.
The gender wage gap does not resolve itself as women age and develop further in their careers. In fact, the wage gap for older women workers is larger than for younger women, and older Black and Hispanic women have the most extreme differences in pay.
The largest identifiable causes of the gender wage gap are differences in the occupations and industries where women and men are most likely to work. Women are 2 out of every 3 full-time workers in occupations that pay less than $30,000 per year, and fewer than 1 in 3 full-time workers in jobs paying an average of $100,000 or more. However, even within the same occupations, women earn less on average than men.
Keep This in Mind
With the wage disparity that women have endured since the beginning of time, one might wonder how things can get better.
As a financial advisor who works with women, I strongly advise you to get smarter about your money. If we can't immediately level the playing field with our paychecks, that means we need to be more proactive with our planning. Talk to an advisor who understands you and who has walked in shoes similar to yours.
I'll leave you with one more startling chart. See any women on it?