For many Gen X women, planning for their financial future might take a backseat to other priorities. Between juggling careers, raising children, caring for aging parents, and keeping up with daily life, it's no wonder that many Gen X women do not have a financial plan.
However, it's pretty obvious that they should. According to a 2023 study from Northwestern Mutual, outliving your savings is the top concern for Gen X women.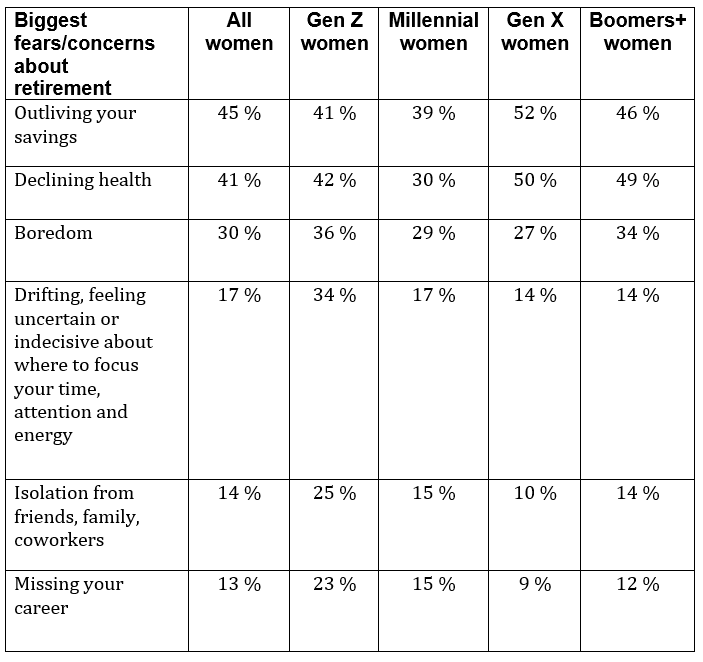 If you watch the news or even have a small interest in what's going on in the world, it's possible that you feel overwhelmed when you hear about what the market is doing. You might even feel like it's something you will never understand, so why bother? That's completely understandable; there is so much being thrown at us that we feel defeated before we even start.
However, the number of women not participating in financial planning could also be because many women don't truly understand what's IN a financial plan; it could sound like something abstract that doesn't really apply to them.
The truth is that a financial plan can help you break down your finances into manageable pieces that help you reach goals you might think are unattainable. This isn't some intimidating tool that only the rich use. It's something that can help you not only plan for the future but also things like vacations and new cars.
Here's what you typically get when you engage the right financial planner:
"Are You Okay?" Check: Your financial plan gives you the inside scoop on how you're doing financially. It's like a buddy checking in to make sure you're not living on ramen noodles and boxed wine. If things are a bit shaky, it helps you figure out how to tighten things up.
Short-Term Goals Whisperer: Got those immediate dreams like a weekend getaway or snagging the latest gadget? Your financial plan helps you figure out if your wallet can handle the splurge. It's like having a friend who's great at budgeting and says, "Yeah, treat yourself, but let's not go crazy."
Long-Term Goals BFF: Thinking big—like buying a house, starting a family, or retiring on a beach somewhere? Your financial plan is the friend that says, "We got this!" It lays out the steps to make those dreams a reality and keeps you on track. It's like having a partner in crime for your money adventures.
Also, keep in mind that this doesn't have to involve a long-term commitment. I often help clients during hourly consultations that require no obligation. Here's what we might discuss:
Retirement plan analysis: Am I on track?
Stock options: What the heck do I do with these?
Asset Allocation: Is everything in the right place?
Budgeting: UGH
Debt repayment plan: How can I get a fresh start?
Combining finances with a partner: Can we do this without killing each other?
Pension vs. lump sum payout: Which one should I choose?
General financial education: Knowledge is power!
Am I doing an okay job managing my investments on my own? (Yes, I will give you an honest answer.)
Am I utilizing the right retirement options for my small business?
I want to make a major purchase (vacation home, etc.). How will this affect my retirement?
I'm interested in ESG investing but would like to manage the portfolio myself. Can you help me get started?
I realize that taking the first step is hard, but once you get moving in the right direction, you'll see how working with a professional can help you not only with your retirement goals…but the fun stuff as well.